There are lots of talks about quartz countertops among architects and interior designers about kitchen and bathroom quartz countertops,other uses of quartz stone, and how good is quartz for commercial and residential projects after all quartz countertops?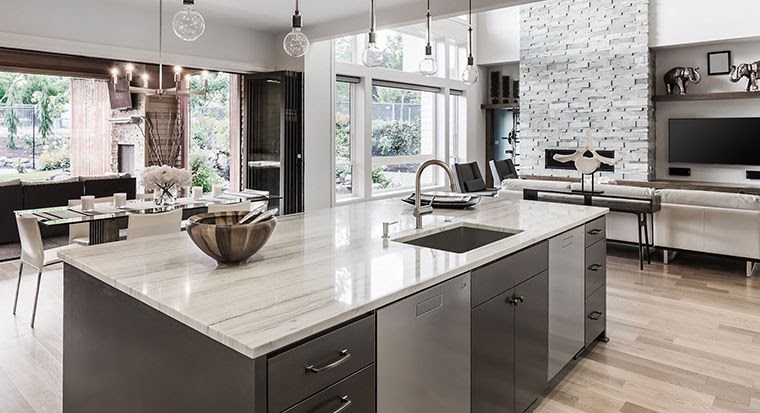 Quartz stone has been around for a long while, but with new technologies and quartz's structure as a building material, a lot has changed. Despite the recent spike in quartz's popularity and tons of new information, there are still a lot of myths and misconceptions about this building material. That's why for today's article Xiamen Aofei Building Materials experts have debunked the top 3 myths about quartz countertops!
All Quartz Countertops Look the Same
This is probably one of the biggest misconceptions about quartz! Quartz has one of the widest varieties of colors and patterns and has an unlimited number of options in this regard. Why? Because quartz countertops are usually engineered building material and consist of 90% ground quartz stone and 10% of pigments, polymers, and resins. Which brings us to the next top myths!
Quartz and Quartzite are the Same Thing
Nope! While the two building materials are similar in qualities and, sometimes, in looks — they're not the same. Quartzite is a completely natural stone, and as we mentioned earlier, quartz stone is technically engineered.
Quartz is Shiny and Doesn't Work for Modern Minimalistic Design
A definite no to both. First, there's a large selection of colors, patterns,
finishes, and textures when it comes to the kitchen, bathroom quartz countertops, and other materials made of quartz. Second, quartz isn't shiny on its own. The shininess we usually observe comes from common polishes.
Do you have any more questions about quartz or other types of naturals stone? Or, perhaps, would love to hear more about these myths in more detail? Xiamen Aofei Building Materials experts are ready to give you all the answers and explain whether quartz is the right choice for your architectural or design project! Contact us today and we will make sure to make your experience with quartz countertops easier and even more successful.